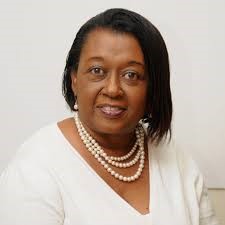 Mrs. Donna Cadogan
Permanent Secretary, Ministry of Tourism and International Transport
Biography
Mrs. Donna Cadogan is a University of the West Indies trained economist. A career officer in the Barbados Public Service for the past 34, having worked in several ministries including the Ministry of Trade and Commerce for 19 years; the Ministry of Energy and the Environment; and the Ministry of Socal Care and Community Development. She joined the Ministry of Tourism and International Transport as Permanent Secretary in January, 2015 with responsibility for the administration of the tourism sector; including aviation and the management of cruise.
Her responsibilities include oversight of the agencies responsible for marketing, product development and licensing; the airport, civil aviation; the Lloyd Erskine Sandiford Conference Centre; Harrison's Cave; Hotel and Resorts Limited and the Needhams Point Group and Caribbean International Airways Limited Group of Companies.
Under her stewardship, receipts from tourism and visitor arrivals increased steadily over the past five years. The COVID -19 pandemic of 2020 has presented an existential challenge to the survival of tourism. Mrs. Cadogan is committed to the resuscitation of a resilient tourism sector in Barbados. " I see this as an opportunity unlike any other for a makeover of the country's tourism product efficiencies through the adoption of transformative practices, leveraging the technological platform and aimed at the creation of a culture of excellence and uncompromising performance standards on the island".
Her quest is to see the development of an aviation industry through the establishment of Barbados as the southernmost aviation hub in the region. She also is striving for Barbados to be a major cruise destination in the southern Caribbean.
One of her key objectives is to realize the re-connection of the region to the African mainland through the establishment of direct air connections with Ghana and other African states, opening a new era of cultural and unlimited business opportunities for the regions' peoples. Her desire is to establish Barbados as the Gateway to the Caribbean, Central America, and Africa thereby transforming the country into the region's preferred destination, providing new avenues for sustained and independent socio-economic development.
Mrs. Cadogan is married and the mother of one son and two daughters. She is an avid reader who enjoys research activities.